Devil Series - High Temperature Resistant On-metal Tags
Devil series is developed by OPP IOT for special industries applications which can withstand high temperature,high impact, water proof, mounting on metal and acid & alkali simultaneously. This series can be used in a variety of extremely harsh environments.
Printable RFID On-metal RFID Labels
OPP IOT has launched a series of printable RFID tags,Our RFID UHF Printable labels are flexible and can be stuck on metallic assets easily, especially for irregular and uneven surface,such as steel boiler, metal container,steel pipe,etc .It has very good performance on metal and is printable with logo,numbers,text by RFID printers.Our selection of Printable RFID Tags are sure to deliver the solution you need for your RFID application.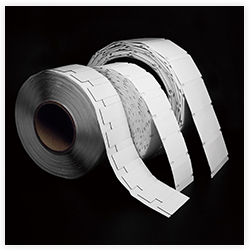 Ceramic RFID Tags
OPP IOT Ceramic RFID Tags are designed to embed into indentations of metallic parts and components. These Compact Ceramic RFID tags achieve best read performance in metallic environments. The housing is made of ceramic, encased with durable black paint and fulfills ingress protection IP 68. Available in 16 sizes from 4 x 4 mm to 30 x 30 mm, OPP IOT Ceramic tags are well suited to tap the benefits of passive RFID for a wide-variety of industrial applications such as IT asset tracking, inventory control, as well as track and trace of small tools and manufacturing equipment.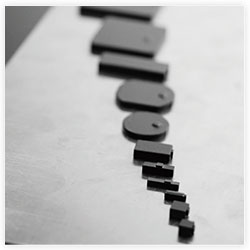 PCB UHF Metal Tags
When you are mounting RFID labels on metal surfaces, you should be aware that if you use non-metal mount RFID tags, your system will not function as desired as the metal will detune any passive RFID labels that is not designed to be placed on metal.
We offer RFID metal tags that are specifically developed to perform optimally when attached to metal objects. You can use them to track Instrument tracking, Tool tracking, Medical device management, Source tagging, Surgical instrument management, Small asset tracking, IT and laptop tracking, embedded bolt identification, Weapons tracking and other metal items.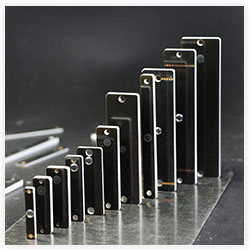 Concrete Embedded RFID Tags
OPP IOT has launched Concrete Embedded RFID tag OPP4601, an UHF RFID tag designed to be mounted on metal and also embedded in concrete so that RFID can be used to uniquely identify building materials improving the management of construction processes. The OPP4601 provides read range up to 6.5 meters when used on the Metal surface and read range up to 2.2 meters when embedded in concrete at a depth of 5 cm.
Durable RFID Tag
Durable RFID Tag OPP510 provides read range up to 10 meters when used on metal surface and read range up to 4.5 meters when embedded in concrete at a depth of 5 cm and 3.0 meters at a depth of 10 cm . The rugged encasement features IP68 ingress protection and allows the Bric to survive high impact and other extreme conditions typical of construction yard.
10 Years On-metal RFID Tag
Durable rfid tag Heavy120 can be mounted on metal surface and supply long read range. it is available to Screw, back glue and tie the tags, while enabling read ranges of up to 9.5 meters. The Heavy120 durable RFID Tag is compliant with EPC global-certified UHF Class 1 Gen 2 (ISO 18000-6C) readers and modules, with broadband capability for international operations.
Anti Acid Alkali On-Metal RFID Tag
OPP2626 RFID tag is developed for chemical resistant solutions. it is designed to meet challenges associated with industrial, automotive and medical laboratory applications – where resistance to moisture and solvents are a must. Our OPP2626 acid and base-resistant tags can resist and work well in the environment of Fuel B, mineral oil, petroleum, salt mist and vegetable oil.
High Temperature FPC UHF Inlay
OPP7111 is a high temperature resistant Flexible printed circuit(FPC) RFID inlay,it is small,light,thinner and Widely used for industrial equipment, industrial laundry system with high temperature resistant needed & washable products. OPP7111 high temperature rfid inlay specifically designed to provide extremely long read range up to 9.0 meters and high temperature resistance of 200 degrees.
UHF Nail Tag
This NAIL Tag OPPD721 is a unique nail-shaped UHF RFID tag that can easily be hammered into trees and wooden containers. They can be used to tag wood and other solid materials as easily as hitting a nail on the head.
RFID Screw Tag
This rugged RFID Screw Tag OPPM16 is designed specifically for tagging objects under the most harsh environment. With its full metal jacket, it offers the best protection to the embedded tag. Bolt RFID Tags OPPM16 can be used almost anywhere with no limitation whatsoever, and it is perfectly suitable for the oil and gas industry, as well as for tracking all kinds of outdoor equipments, and is able to resist high temperature and pressure.