"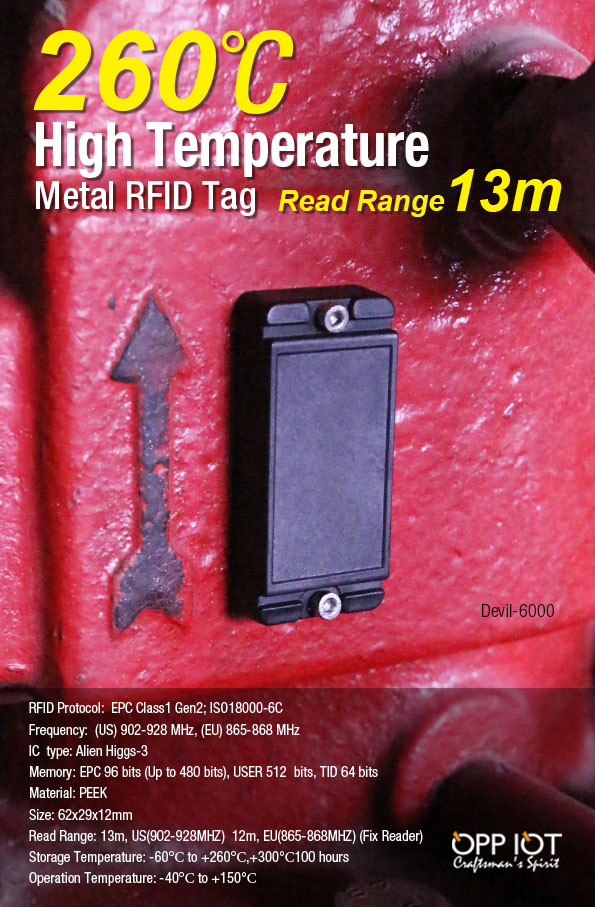 Devil-6000 is designed for high-impact and high-temperature environments. It can withstand temperatures up to 300°С for 100 hours.
It is reallly
ultra high temperature rfid tag
. Also can get 13m read distance on metal surface. After long time high temperature process, tag performance won't come down.
This
high temp rfid tags
built to sustain abuse. And can be installed to metal pipes or tools for the oil and gas, construction or other heavy industrial sectors.
If take a raw passive tag or an active tag to expose to 300℃, tag will break. As the solder for most electronics equipment melts at about 300℃Tags which utilize common solder to connect the IC to the antenna would see the solder melt at 300℃, likely make the tag broken. However, if the tag has been made using solder that melts at a higher temperature, thus tag could survive that amount of heat. Like our Devil-6000 tag, it is encased in PEEK materials to protect them against temperatures.
We are specialized in ultra high temperature rfid tag. Welcome for inquiry.
Michelle Zheng
Tel: 8618750070819
Email: sales11@oppiot.com