"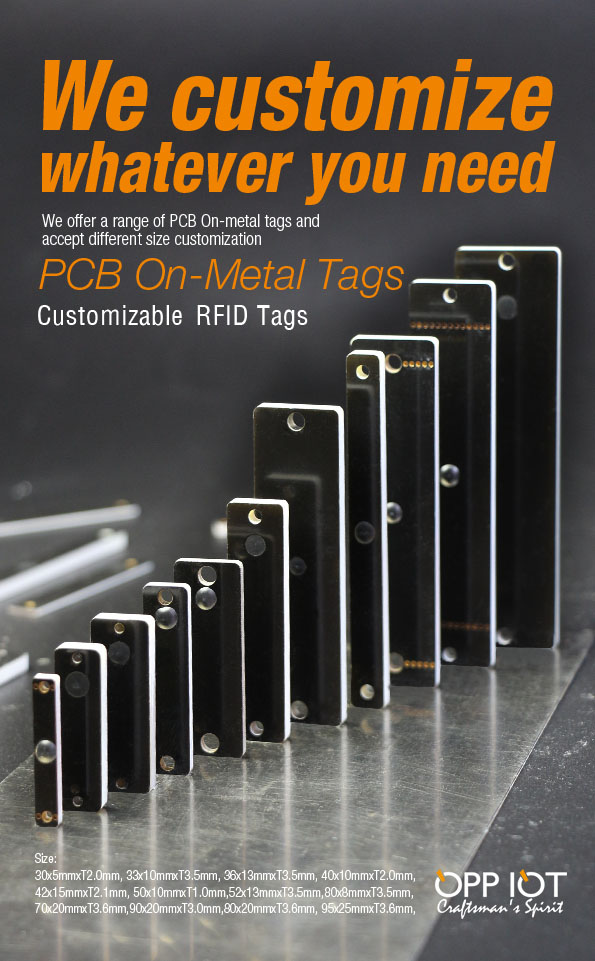 OPPIOT never stops its step to develop and improve its production line to offer more products to the world's industries.
We have several lines for different types of RFID tags, like Devil series for high temperature and special environments, PCB tags for metal assets,
durable rugged tags
for outdoor assets management, etc.
Here I would like to introduce our smallest size PCB tag -
PCBD5
.
The size is only D5mm, but with reading distance up to 1m. It is widely used for small tools management. There are NXP UCode8 and Alien Higgs-3 chips available
The detailed information as follow:
Functional Specifications:
RFID Protocol: EPC Class1 Gen2, ISO18000-6C
Frequency: (US) 902-928MHz, (EU) 865-868MHz
IC type: Alien Higgs-3, NXP Ucode8 optional
Memory: EPC 96bits (Up to 480bits) , USER 512bits, TID64bits
Write Cycles: 100,000times
Functionality: Read/write
Data Retention: Up to 50 Years
Applicable Surface: Metal Surfaces
Read Range :
(Fix Reader)
100cm - (US) 902-928MHz, on metal
90cm - (EU) 865-868MHz, on metal
Read Range :
(Handheld Reader)
60cm - (US) 902-928MHz, on metal
55cm - (EU) 865-868MHz, on metal
Warranty: 1 Year
Physical Specification:
Size: Diameter 5mm
Thickness: 4.0mm with IC bump
Material: FR4 (PCB)
Colour: Black (Red, Blue, Green, White)
Mounting Methods: Embed , Adhesive
Weight: 0.5g
Environmental Specification:
PCBD5U1:
PCBD5E4:
IP Rating: IP68
Storage Temperature: -40°С to +150°С
Operation Temperature: -40°С to +100°С
Certifications: Reach Approved, RoHS Approved, CE Approved
Order information:
PCBD5U1 (US) 902-928MHz,
PCBD5E4 (EU) 865-868MHz
More info view http://www.oppiot.com/uhf-metal-tags-atom-series-oppd5.html
Mary Wang
Tel: (0086)594 2790031
Skype: live:250f343bb0fd2c22
WhatsApp: 8615905938298
E-mail: sales15@oppiot.com