Home > RFID News > RFID Technical
8 Channels UHF RFID Fixed Reader OPP801 from OPP IOT
2021-12-21 View: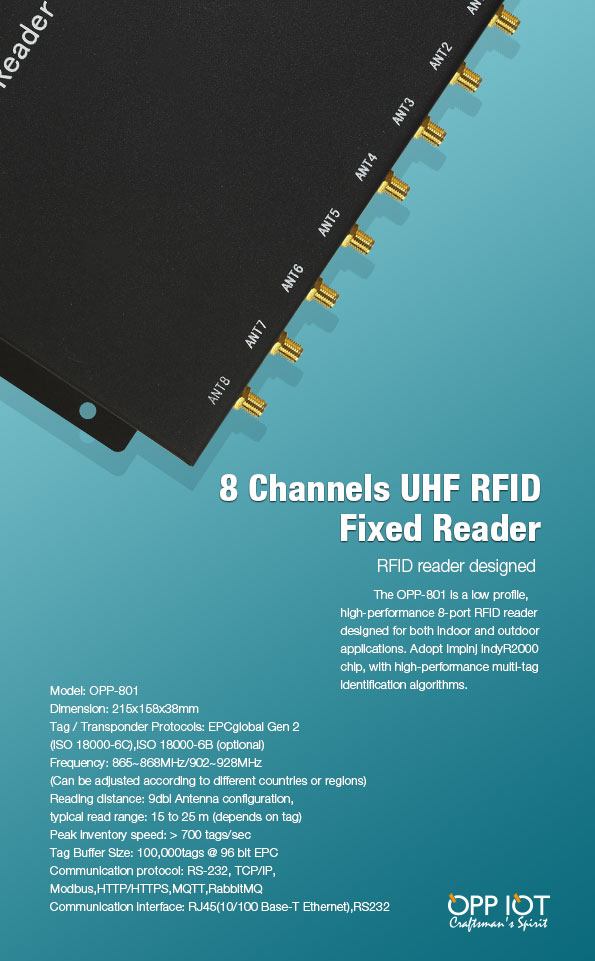 RFID Readers offer the strong functionality needed to jumpstart a successful RFID system. An RFID Reader is a radio frequency transmitter and receiver. RFID Readers can read and write information to an RFID tag. RFID Readers can also be fixed. fixed RFID Readers can be installed or carried almost anywhere.

OPP IOT offers almost RFID Fixed Reader on the market. Our 8 Channels Long range RFID Reader OPP801 can help you achieve maximum asset visibility throughout your enterprise.
OPP801 Operating frequencies including Global and 902-928 MHz (US-FCC) and 865-868 MHz (EU-ETSI). Interfaces include USB, RS232C, parallel, RS485, Ethernet, bluetooth, WiFi 802.11a,b,n. Android10.0, CE, Pocket PC OS, 2.4G/5G Double Frequency, Support IEEE802.11a/b/g/n/ac, Support Wifi, ethernet, WWAN, HSPA,GSM SIM 2G/3G/4G and bluetooth connectivity. Perfectly suitable for logistics, warehousing, distribution centres, van delivery drivers and even supermarkets and retail outlets for faster and automated supply chain delivery.
More info http://www.oppiot.com/oppx10.html

OPP IOT offer all the latest RFID readers on the market and can help you find the right one for your needs.