Home > RFID News > RFID Technical
Withstand 260°C High Temperature with small size RFID Tag Devil4015
2021-12-30 View: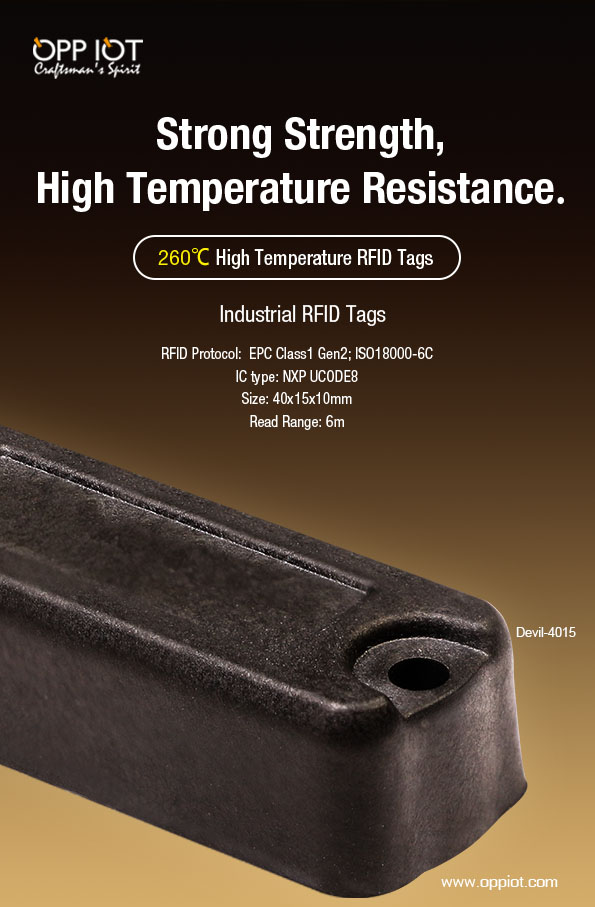 OPPIOT produce a variety of Withstand High Temperature RFID Tags for industrial applications, which will help a lot to solve the tracking problems under harsh environments.
Here we would like to introduce the most price competitive high temperature RFID tag with small size, however long reading distance -RFID tag Devil4015. The size is 40x15x10mm with two diameter 2.5mm holes. It is light with weights only 6g.
The outer housing covered by PEEK, black color, Devil4015 can withstand high temperature up to 300 degrees for 100 hours and 260 degrees for long time.
The mounted method is by screw to withstand high temperature. It works very well on metal surface with reading distance up to 6 meters by fixed reader.
There are EU band 865-868MHz and US 902-928MHz available.
The performance of Devil4015 is very preferable and the price also lovely.
Do you want to know more
UHF RFID Tag
products?
Kindly contact me by following contact:
Mary Wang
Email:sales15@oppiot.com
Skype:live:250f343bb0fd2c22
WhatsApp:8615905938298