Home > RFID News > RFID Technical
Why there have an RFID tags applied on the Manhole cover?
2021-12-19 View: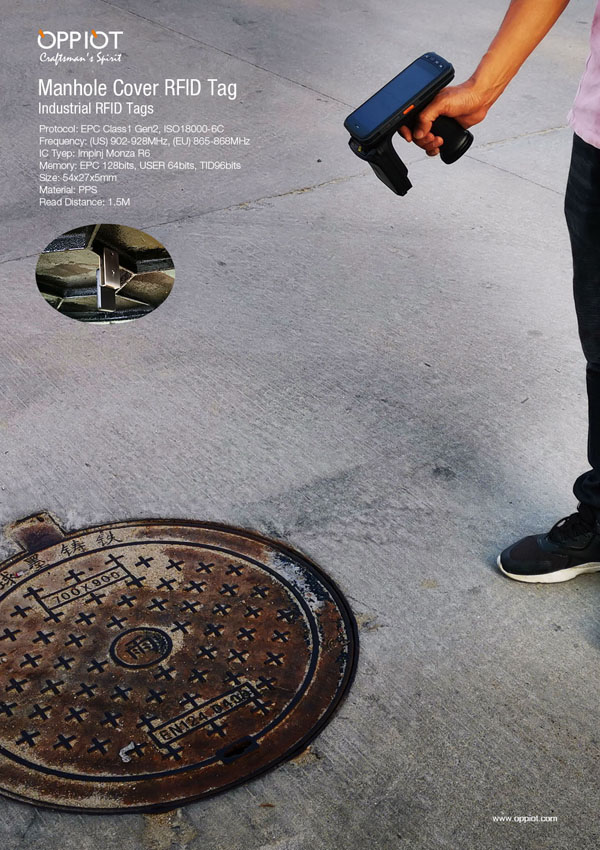 Manhole cover is place a import role in our life ,
if the community manhole cover is lost, it is easy to cause traffic accidents, causing loss and injury to the majority of pedestrians, ranging from falling in and falling, and severely injuring lives, especially the elderly and children.

Secondly, if the sewer manhole cover is damaged or lost, the sewage will overflow, which will affect the residents' travel and the community environment, and the residents will not feel comfortable living.

The damage caused by the loss of a manhole cover is not only a loss of money, but also a fatal injury. The number of casualties caused by the loss or damage of the manhole cover in China is not a small number every year.

So there have the action of manage the manhole cover is necessary ,but how to manage the manhole cover in easily .
Yes ,our OPPIOT technologies have an Long range RFID tags OPP5427 which is generated for Manhole cover ,which have long reading distance 1.5Meters by handheld reader .the controller just read the manhole in contact less.


Our RFID tags was install at downside of the cover by hanging up, and the cover must have the hole to transmit the RFID signal connect with the RFID reader.
Contact our company for much more information as follow:
Feeny Lai
Email:Sales3@oppiot.com
WhatsAPP/Mobile:(0086)15892080432
Skype:enjoyrfid1