Home > RFID News > RFID Technical
Asset tracking tag in automatic spraying process
2021-10-18 View:
After the automatic spraying robot is introduced into the spraying production line, workers must manually set the working parameters of the spraying robot by observing the types of parts and other information to correctly set the process parameters of the parts to be processed. Manual settings will not only affect the production efficiency of the line, and it is extremely error-prone. Due to dust, high temperature and humidity, corrosion and poor visibility in the spray production environment, automatic barcode identification technology cannot be applied. Compared with barcode technology, RFID technology has many advantages, such as long identification distance, no need for visual visibility of tags during identification, use in harsh environments, update content, ability to read multiple tags in batches, and high-speed identification. Sports items, large amount of information, not easy to imitate, etc. Therefore, the use of UHF RFID technology RFID location tracking to realize the data collection of the key procedures of the automatic spraying production line, and the efficient cooperation with the automatic production line and the spraying robot system, overcomes the existing problems in the system, and improves the reliability and reliability of the data collection of the spraying production line. Accuracy greatly improves production efficiency.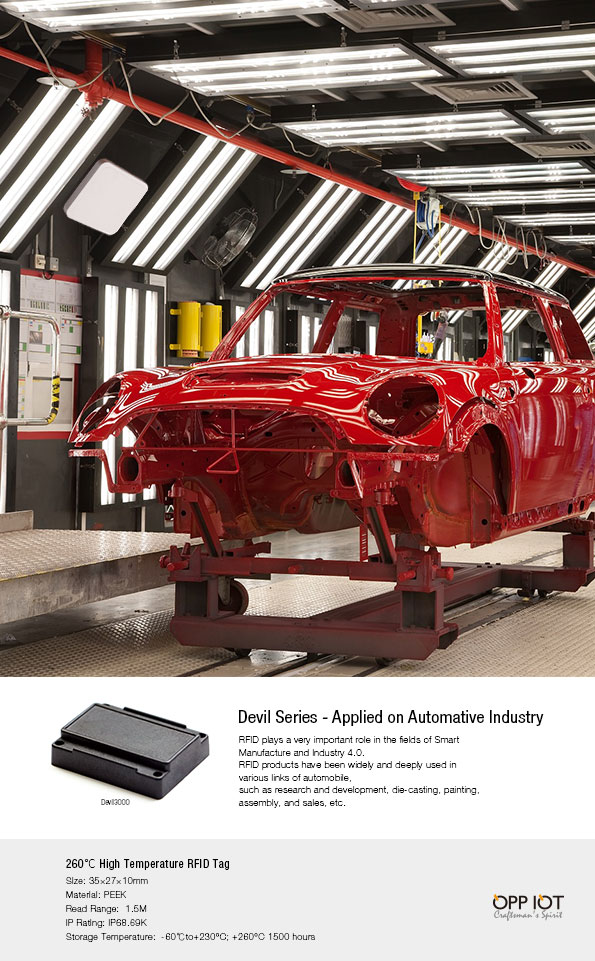 1) Automatically collect information such as the workpiece manufacturing code of the spraying process and the model code of the spraying process. RFID manufacturing technology provides an information basis for automatic spraying;
2) Information technology combines sensor technology, automation technology and RFID technology to realize the automation of the whole process of the spraying production line and realize the real integration of the two;
3) The automation of the spraying RFID production line greatly reduces the on-site staff and effectively reduces the damage to the human body caused by dust and paint;
4)Rfid tags for tools improve the production efficiency of enterprises, reduce labor intensity, and reduce errors;
5) Improve the level of enterprise information management.
Anna Lin
Tel: (0086)594 2790031
Email: sales5@oppiot.com
Skype:Card.enjoy