"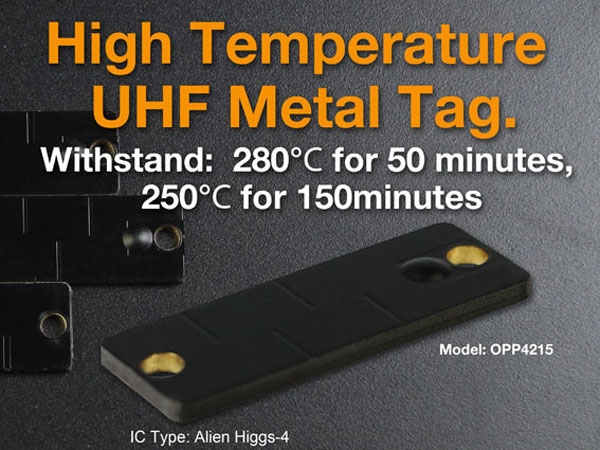 The
passive UHF RFID tag
OPP4215 are specially designed for mount on metal object and high temperature (
280°С for 50 minutes, 250°С for 150minutes
) environment applications. They offer precise real-time data collection for identification, tracking, and localization of various assets. Their intelligent use of Ultra High Frequency (UHF) technology enables a long communication range from either a handheld or fixed RFID reader. High volume of RFID tags can be recognized simultaneously due to their highly advanced anti-collision multi-tag-handling algorithm. These sturdy
High temperature resistance tags
offer robust performance at an attractive price point and provide users with a diverse selection of options depending on intended use.
OPP4215 RFID tags Functional Specifications:
RFID Protocol:EPC Class1 Gen2, ISO18000-6C
Frequency:US 902-928MHz, EU 865-868MHz
IC type:Alien Higgs-4
Memory:EPC 96bits (Up to 480bits) , USER 512bits, TID64bits
Write Cycles:100,000times
Functionality:Read/write
Data Retention:Up to 50 Years
Applicable Surface:Metal Surfaces
Read Range(On Metal):
(Fix Reader:ThingMagic M6-E, 36dBm/4W) Up to 680cm - (US) 902-928MHz, on metal
Up to 700cm - (EU) 865-868MHz, on metal
Read Range(On Metal):
(Handheld Reader: OP9908,R2000,33dBm/2W)
Up to 530cm - (US) 902-928MHz, on metal
Up to 550cm - (EU) 865-868MHz, on metal
Warranty:1 Year
OPP4215 RFID tags Physical Specification:
Size:42x15mm, (Hole: D4mmx2)
Thickness:2.1mm without IC bump, 2.8mm with IC bump
Material:PTFE
Colour:Black
Mounting Methods:Adhesive, Screw
Weight:2.2g
OPP4215 RFID tags Enivironmenal Specification:
IP Rating:IP68
Storage Temperature:-55°C to +200°C (280°С for 50 minutes, 250°С for 150minutes)
Operation Temperature:-40°C to +150°C (working 10hours in 180°С)
Certifications:Reach Approved,RoHS Approved,CE Approved