Home > RFID News > RFID Technical
OPP5010 Ultra Thin UHF PCB Tags
2017-12-30 View: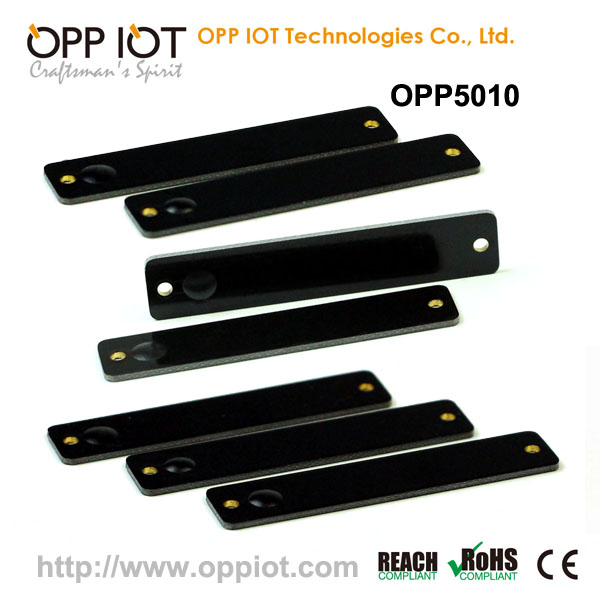 We want to introduce our OPP5010 UHF tags to you today. We specially developed this ultra thin UHF metal tag as thickness only 1mm, they are specially designed for machines which don't have enough room for RFID tracking tools.

Specification for this tag:
RFID Protocol: EPC Class1 Gen2, ISO18000-6C
Frequency: (US) 902-928MHz, (EU) 865-868MHz
IC type: Alien Higgs-3
Memory: EPC 96bits (Up to 480bits) , USER 512bits, TID64bits
Write Cycles: 100,000times
Functionality: Read/write
Data Retention: Up to 50 Years
Applicable Surface: Metal Surfaces
Read Range :
(Fix Reader:ThingMagic FU-M6-E, 30dBm)
Up to 2.8M - (US) 902-928MHz, on metal
Up to 2.5M - (EU) 865-868MHz, on metal
Read Range :
(Handheld Reader: OP9908, R2000, 30dBm)
Up to 1.9M - (US) 902-928MHz, on metal
Up to 1.7M - (EU) 865-868MHz, on metal
Warranty: 1 Year
Physical Specifi cation:
Size: 50x10mm, (Hole: D2mm)
Thickness: 1.0mm
Material: FR4 (PCB)
Colour: Black (Red, Blue, Green, White)
Mounting Methods: Adhesive, Screw
Weight: 1.5g

They are with Reach Approved, RoHS Approved, CE Approved so meet your country's quality requirement. And featured of thin thickness, excellent reading distance, and flexible mounting but at very good price. Kindly contact us at info@oppiot.com for more price information.