"
UHF RFID tag
Devil4015 is specially designed to work under harsh environments and can withstand shock and vibration and prolonged exposure to extreme weather and temperature.
With an outstanding reading distance, the
ultra high frequency RFID tag
Devil4015 provides a cost-effective solution for applications below:
I: Automotive tracking and security
II: Military asset tracking
III: Cargo and container tracking
IV: Transportation and logistics
V: Airline unit load devices
VI: Construction and heavy machinery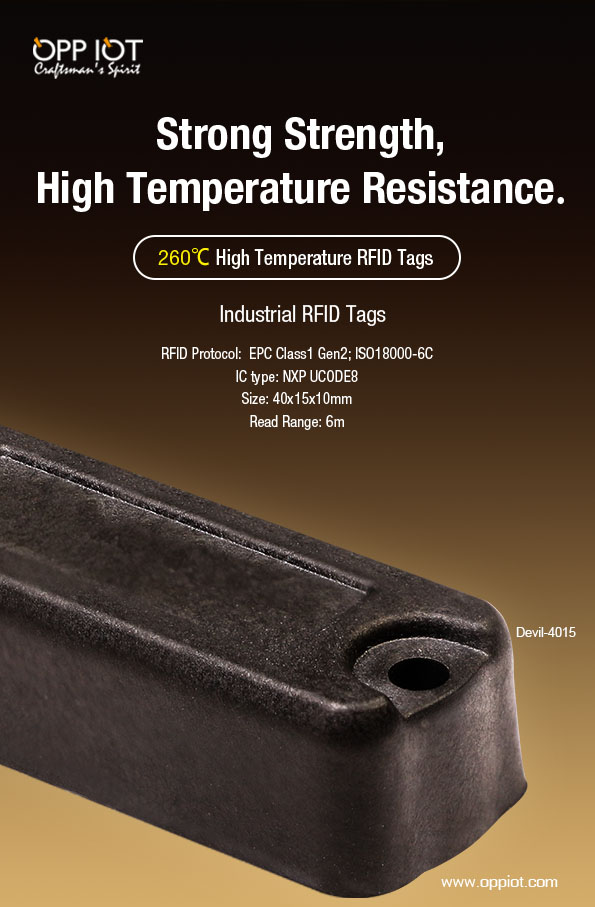 Devil4015 is a mini tag, but with very good reading distance, can up to 6 meters. It can be survived under 260°C for long time without damage. The rugged housing makes it strong enough to adapt many harsh environments for different items tracking. With an IP68 protection rating, its resistance to water and dust is excellent. It can be mounted to any metal surface.
Technical Specifications
Size:40x15x10mm
Material:PEEK
Reading Range:Up to 6m on metal (by fixed reader), Up to 3m on metal(by handheld reader)
Weight (g):6g
Mounting method:Screw
Frequency Range (MHz):EU: 860-865MHZ;US: 902-928MHZ
IC Type (chip):NXP Ucode8
Memory (bits):EPC – 128bits; User – 0bits; Global Unique TID – 96bits
Operating Temperature:–40 to +150 °C
Max Temperature Exposure:–40 to +260 °C
IP rating:IP68
Certifications:RoHS approved,CE approved,Reach approved
Application surface:Metal
For help selecting which OPP IOT
high temp RFID Tags
are right for you, please contact us!
Mary Wang
Tel: (0086)594 2790031
Skype: live:250f343bb0fd2c22
WhatsApp: 8615905938298
E-mail: sales15@oppiot.com