"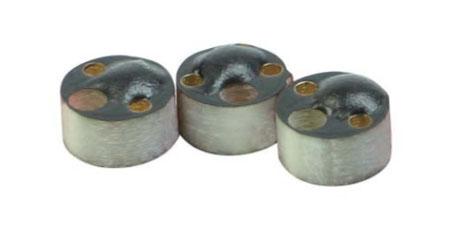 OPPD6 are extremely
small RFID tags
specifically designed for high performance on metallic surfaces. dia Measuring just 6mm, these
Small size RFID tags
are an ideal solution for hand tools, sockets included, weapons and very small IT assets. They can be used also on medical assets and surgical instruments since they survive high temperature up to 150°C and cleaning processes, including autoclave sterilization. The OPPD6 are also compatible with finishing processes such as dipping, coating, heat shrinking and moulding for being integrated into assets at the point of manufacture. Despite their micro-sizes, these
UHF RFID tags
provide read range up to 85 cm with fixed readers and up to 45cm with handheld readers.
Functional Specifications
RFID Protocol:EPC Class1 Gen2, ISO18000-6C
Frequency:US 902-928MHz, EU 865-868MHz
IC type:Alien Higgs-3
Memory:EPC 96bits (Up to 480bits) , USER 512bits, TID64bits
Write Cycles:100,000times
Functionality:Read/write
Data Retention:Up to 50 Years
Applicable Surface:Metal Surfaces
Read Range (On Metal) :(Fix Reader:ThingMagic M6-E, 36dBm/4W)
85cm - (US) 902-928MHz, on metal
75cm - (EU) 865-868MHz, on metal
Read Range(On Metal) :(Handheld Reader: OP9908,R2000,33dBm/2W)
45cm - (US) 902-928MHz, on metal
45cm - (EU) 865-868MHz, on metal
Warranty:1 Year
Physical Specification
Size:Diameter6mm, (Hole: D2mmx1)
Thickness:4.0mm with IC bump
Material:FR4 (PCB)
Weight:0.5g
Enivironmenal Specification
IP Rating:IP68
Storage Temperature:-40°C to +150°C
Operation Temperature:-40°C to +100°C
Certifications:Reach Approved,RoHS Approved,CE Approved
More info view
http://www.oppiot.com/uhf-metal-tags-atom-series-oppd6.html
OPP IOT provides the complete
RFID tag customization services
, users may have the service options for: RFID tag date encoding, tag ladling & printing, laser engraving & direct printing, for some special application where needs the tag to be able to withstand chemical erosions, the special RFID tag coating services are also available at OPP IOT. To get more information about our tag customization service, please contact our saler today for more information.
OPP IOT Technologies CO., LTD.
Address: 2104 Room SANDI International Finance Centre,249# MingXin Street LongQiao,ChengXiang Putian City Fujian, P.R, China
P.C: 351100
Tel: (00865942790031
E-mail: info@oppiot.com
WhatsApp: +86 180 3034 2267
Website:http://www.oppiot.com