"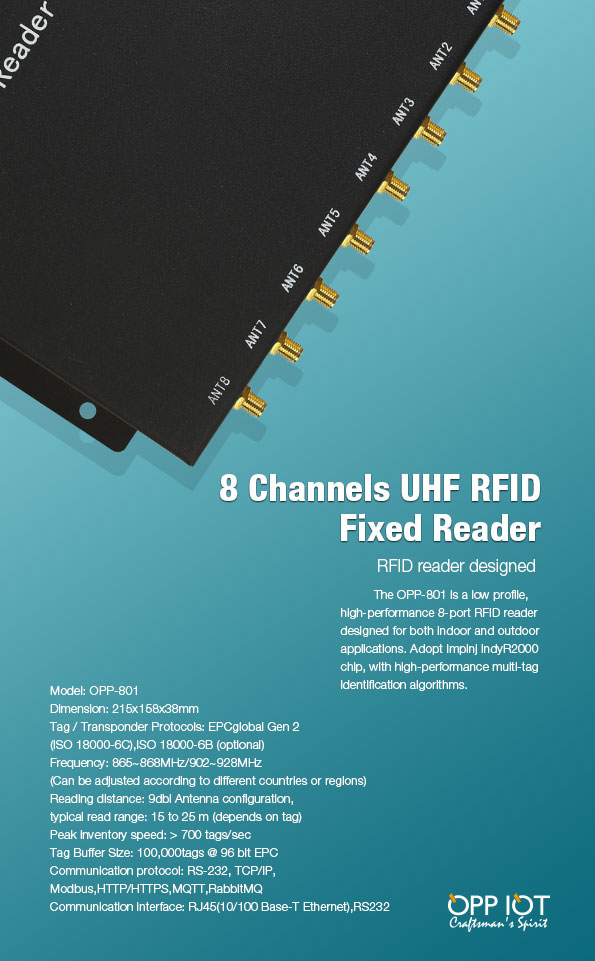 An UHF reader is known as radio frequency identification device, mainly composed of a transmitter and a receiver, as well as a control unit and an antenna. The
long range UHF reader
works in the UHF frequency band, and generally work in the 840-960 MHz frequency band. UHF systems transmit energy through electromagnetic fields, and wireless communicate with RFID electronic tags through antennas.
Usually, protocols of
UHF RFID readers
is EPCglobal C1 Gen 2 ISO 18000-6C, ISO18000-6B. Most of them may be combined with an HF module, with HF protocols as well.
The long range UHF reader OPP801 can read tag identification codes and memory data far from 15 to 25 meters, and each second can read almost 700 UHF RFID tags.
The high-speed, high-performance processing systems is developed to meet various demands of customers worldwide.
Want to know more UHF RFID Reader products?
Kindly contact me by following contact:
Patty Yu
E-mail: sales6@oppiot.com
E-mail: sales@oprfid.com
Skype: OPRFID PattyYu