"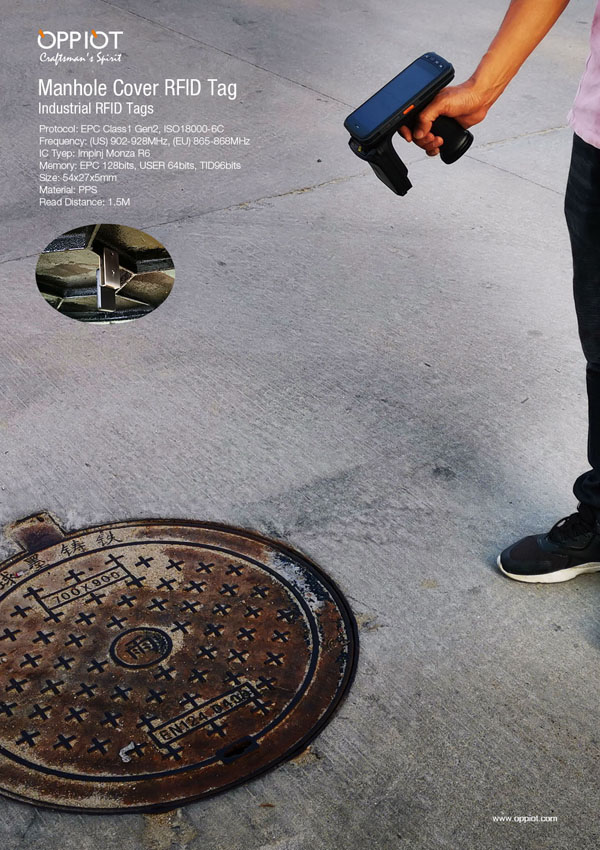 You can read the data of RFID tags that installed in devices by handheld Reader without opening the cover of devices. Meanwhile, You can quickly hold the key information of Manhole Cover and the status of the lost Manhole Cover.
Our
Manhole Cover RFID tag
OPP5427 are Water-proof, anti-corrosion,Anti-vibration and easy maintenance,it can be applied on oil, dust, rain and other bad environment. Thus,
adopting RFID tags
as asset identifier can solve the problem of damaging tags in outside to the devices offen used in outside. We can repeatedly write data into it for 100,000 times.
Functional Specifications:
IC type:Impinj Monza R6
Chip Memory:EPC 128bits , USER 64bits, TID96bits
Frequency (MHz): US:902-928 ; EU:865-868
Size (mm):54x27x5
Reading Range(handheld Reader):US (902-928MHz) 1.6Meters
Reading Range(handheld Reader):EU (865-868MHz) 1.5Meters
Mounting Methods:Screw Adhesive
Material:PPS
Application Surface:Manhole Cover
Storage Temperature:-30℃ to +100℃
IP Rating:IP68
Weight (g):23g
More info view
http://www.oppiot.com/RFID-tag-for-manhole-cover.html