Home > RFID News > RFID Technical
OPP4215 RFID tags is specifically desinged for High Temperature industrial environment
2018-8-5 View: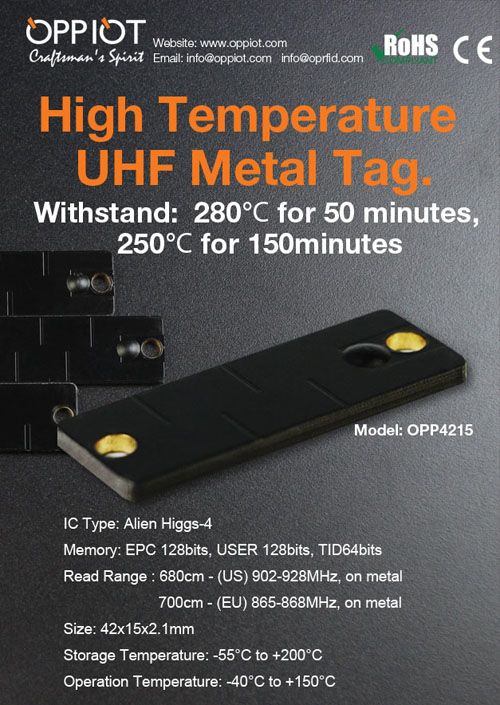 Need to track assets or machines exposed to extreme heat, high pressure or corrosive chemicals? OPP4215 is a perfect high temperature RFID tag for you.
Many industries process assets, products or materials at elevated temperatures using carriers or containers for transportation purposes. Frequently being able to reliably and uniquely identify and track the asset or container is highly advantageous, generating efficiency and compliance benefits.
OPP IOT found the marketplace was in great need of a tag that could survive repeated exposures in high temperature settings such as automotive paint booths, medical autoclave sterilization and manufacturing operations. The only available RFID tags on the market were, and continue to be, too large and bulky for most use cases, too expensive for large deployments and generally unreliable with an inconsistent resistance to high heat.
OPP4215
UHF tags
are specifically designed for high temperature industrial environments (
280°С for 50 minutes, 250°С for 150minutes
). These products address the critical needs of customers with their combination of a small form factor, read range up to
7m
and high temperature survivability – all at a very competitive price point.
OPP4215 Functional Specifications:
RFID Protocol:EPC Class1 Gen2, ISO18000-6C
Frequency:US 902-928MHz, EU 865-868MHz
IC type:Alien Higgs-4
Memory:EPC 96bits (Up to 480bits) , USER 512bits, TID64bits
Write Cycles:100,000times
Functionality:Read/write
Data Retention:Up to 50 Years
Applicable Surface:Metal Surfaces
Read Range(On Metal):
(Fix Reader:ThingMagic M6-E, 36dBm/4W) Up to 680cm - (US) 902-928MHz, on metal
Up to 700cm - (EU) 865-868MHz, on metal
Read Range(On Metal):
(Handheld Reader: OP9908,R2000,33dBm/2W)
Up to 530cm - (US) 902-928MHz, on metal
Up to 550cm - (EU) 865-868MHz, on metal
Warranty:1 Year
OPP4215 Physical Specification:
Size:42x15mm,(Hole: D4mmx2)
Thickness:2.1mm without IC bump, 2.8mm with IC bump
Material:PTFE
Colour:Black
Mounting Methods:Adhesive, Screw
Weight:2.2g
OPP4215 Enivironmenal Specification:
IP Rating:IP68
Storage Temperature:-55°C to +200°C (280°С for 50 minutes, 250°С for 150minutes)
Operation Temperature:-40°C to +150°C (working 10hours in 180°С)
Certifications Reach Approved,RoHS Approved,CE Approved