"OPP IOT's UHF RFID tags OPPD5 have a unique antenna design which differentiates itself from conventional tags, the proprietary multilayer structure of the antenna results in an increased read range in combination with a miniaturised ultra-small tag size. The
Small RFID tags
OPPD5
offer a superior reading distance in regard to their small size, so that a reading distance of 1.0meter can be achieved with a tag of the size of dia5mm (when applied on metal).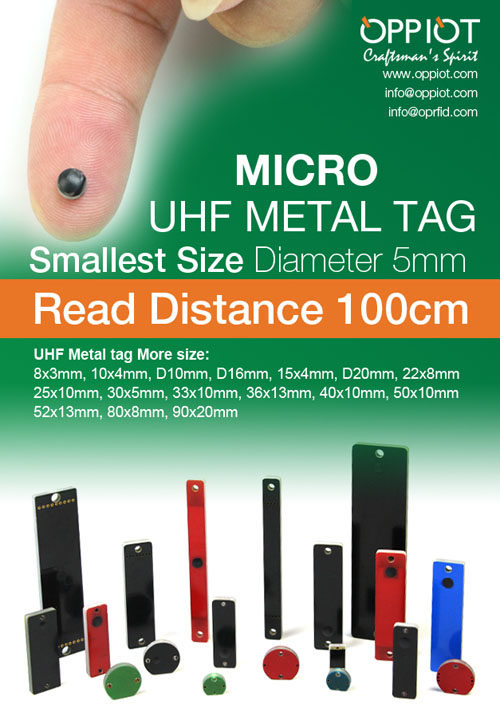 Functional Specifications
RFID Protocol:EPC Class1 Gen2, ISO18000-6C
Frequency: US 902-928MHz, EU 865-868MHz
IC type:Alien Higgs-3
Memory:EPC 96bits (Up to 480bits) , USER 512bits, TID64bits
Write Cycles:100,000times
Functionality:Read/write
Data Retention:Up to 50 Years
Applicable Surface:Metal Surfaces
Read Range (On Metal)(Fix Reader:ThingMagic M6-E, 36dBm/4W):
100cm - (US) 902-928MHz, on metal
80cm - (EU) 865-868MHz, on metal
Read Range(On Metal)(Handheld Reader: OP9908,R2000,33dBm/2W):
60cm - (US) 902-928MHz, on metal
40cm - (EU) 865-868MHz, on metal
Warranty:1 Year
Physical Specification
Size:diameter 5mm
Thickness:4.0mm with IC bump
Material:FR4 (PCB)
Colour:Black (Red, Blue, Green, White)
Weight:0.5g
Enivironmenal Specification
IP Rating:IP68
Storage Temperature:-40°C to +150°C
Operation Temperature:-40°C to +100°C
Certifications:Reach Approved,RoHS Approved,CE Approved
More info of OPPD5 view http://www.oppiot.com/uhf-metal-tags-atom-series-oppd5.html
OPP IOT can
develop RFID tags
to meet your unique material property or specific environmental requirements.
More info,please Contacts us:
OPP IOT Technologies CO., LTD.
Address: 2104 Room SANDI International Finance Centre,249# MingXin Street LongQiao,ChengXiang Putian City Fujian, P.R, China
P.C: 351100
Tel: (0086)594 2790031
E-mail: info@oppiot.com
WhatsApp: +86 180 3034 2267
Website:http://www.oppiot.com