Home > RFID News > RFID Technical
High-Temperature RFID Tag OPP4215 for Industrial Manufacturing process
2018-9-9 View: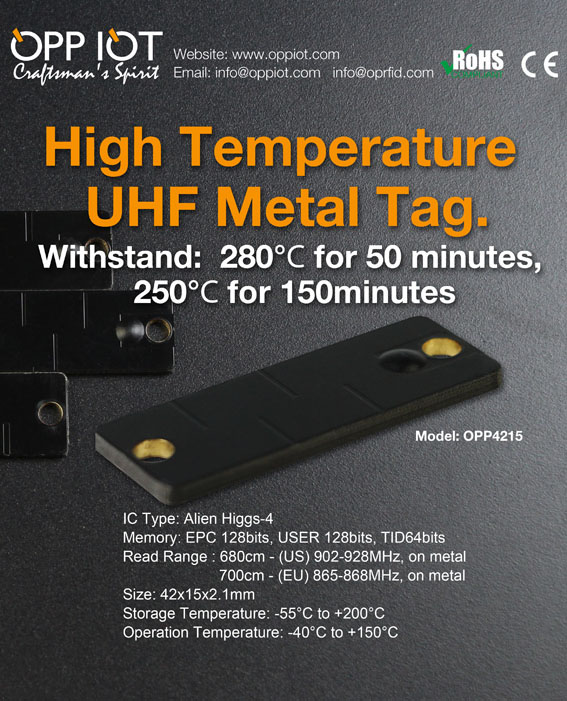 OPP IOT has created a new industrial Radio Frequency Identification (RFID) tag OPP4215 designed to withstand temperatures as high as 280°С for 50 minutes, 250°С for 150minutes. This very compact tag, only 42mm x 15mm x 2.1mm in size, is designed to be easily mounted in as many locations as possible and complies with the open ISO 15693 standard. These features offer greater hardware flexibility, while providing the highest data reliability that OPP IOT RFID users are accustomed to.
The
high-temperature rfid tag
is commonly used for applications where users need to track parts and get traceability of the manufacturing process. This is needed for quality improvement and error proofing, as well as maximizing the reusability of product carriers like pallets or conveyor segments. A typical application is painting and coating operations where heat sealing, oven drying, or curing may occur. In this type of application, the data carriers are not active during high-temperature exposure and therefore data is reliably preserved.
Integrating all popular communication protocols, this high-temperature RFID data carrier can communicate with all popular control platforms. Compatible read/write heads are available in many sizes and configurations to fit most applications.
More info view http://www.oppiot.com/uhf-metal-tags-dolphin-series-opp4215.html