"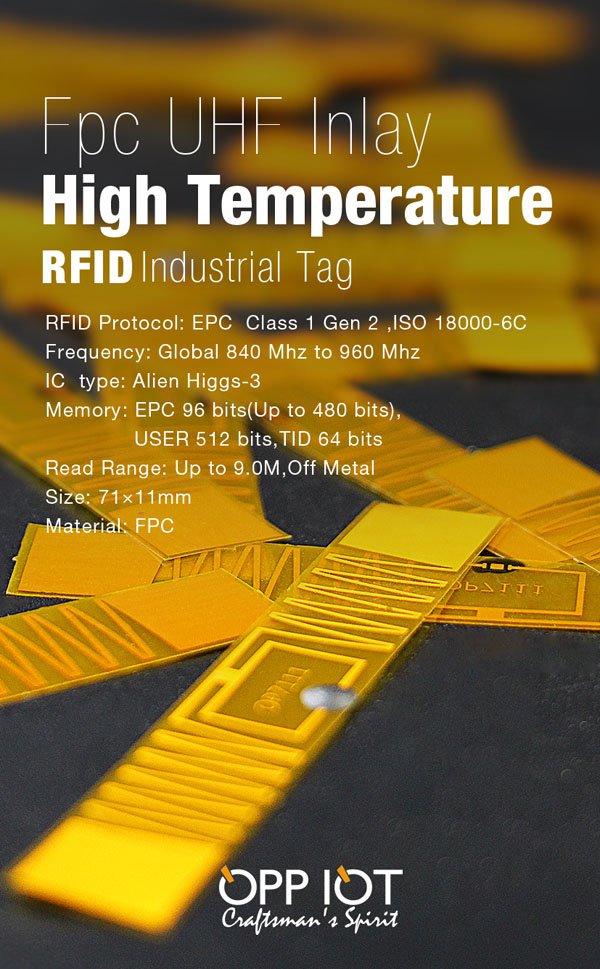 High-temperature RFID inlay
OPP7111 are designed to withstand extreme temperatures and environments for a long period of time.
high-temperature UHF tags
OPP7111 are suitable for a variety of applications giving you accurate information every time. Our
high-temperature durable tags
OPP7111 are ideal in healthcare, automotive, oil & gas, and other industries where high temperatures are present.
Functional Specifications:
RFID Protocol:EPC Class1 Gen2, ISO18000-6C
Frequency
:Golbal 840Mhz to 960Mhz
IC type:Alien Higgs-3
Memory:EPC 96bits (Up to 480bits) , USER 512bits, TID64bits
Write Cycles:100,000times
Functionality:Read/write
Data Retention:Up to 50 Years
Applicable Surface:non Metal Surfaces
Read Range(Off Metal) :(Fix Reader):Up to 9.0m
Read Range(Off Metal) :(Handheld Reader):Up to 5.0m
Warranty:1 Year
Physical Specification:
Size:71x11mm
Thickness:0.13mm
Material:FPC
Weight:0.2g
Enivironmenal Specification:
IP Rating:IP68
Storage Temperature:-40°C to +200°C
Operation Temperature:-40°C to +100°C
Certifications:Reach Approved,RoHS Approved,CE Approved
More info view http://www.oppiot.com/uhf-tags-everest-series-opp7111.html