"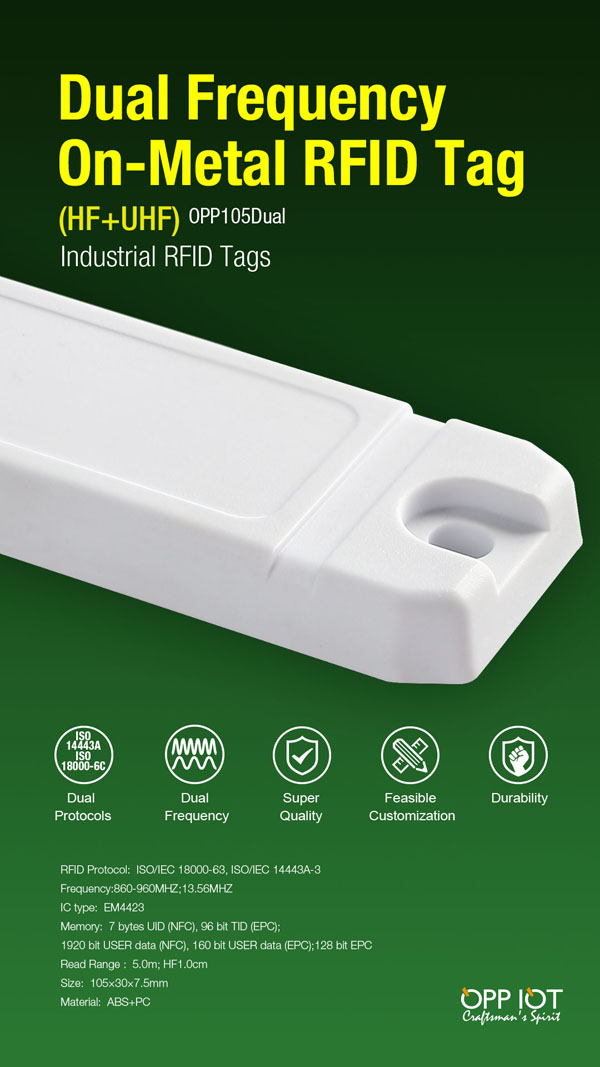 People always need a tags which can meet different request in different process but no need to change the tags ,such as in the manufacture process ,it need UHF frequency to monitor the production line and also in the
warehouse asset tracking
,but in the sales site ,they need NFC function ,since they need to tracking the product information and also to view the number of times the product tag has been accessed to determine whether the product is popular in the market or not.
OPP105
dual frequency RFID tags
use the chip EM4423 ,which have the
NFC and UHF frequency
function .these tags can meet various clients demand ,the tags can be applied on metal and non metal surface with long reading distance from UHF reader ,but also read from NFC reader or mobile phone.
Functional Specifications:
RFID Protocol:
ISO/IEC 18000-63, ISO/IEC 14443A-3
Frequency: US(902-928MHZ), EU(865-868MHZ);13.56MHZ
IC type: EM4423
Memory: 7 bytes UID (NFC), 96bit TID (EPC);
1920 bit USER data (NFC), 160 bit USER data (EPC); 128 bit EPC
Write Cycles: Minimum 100,000 times
Functionality: Read/write
Data Retention: Up to 50 Years
Applicable Surface: Metal Surfaces
Read Range :
(Fix Reader)
Up to 500cm, US ( 902-928MHZ ), On metal;
Up to 400cm, EU ( 865-868MHZ ), On metal;
Read Range :
(Handheld Reader)
UHF 150cm,(on metal),HF 1cm,(on metal and off-metal), US (902-928MHZ);
UHF 130cm,(on metal),HF 1cm,(on metal and off-metal), EU (865-868MHZ).
Warranty: 1 Year
Physical Specifification:
Size: 105.0x30.0mm, Hole: D5.2mmx2
Thickness: 7.5mm
Material: ABS+PC
Colour: White(Or Others)
Mounting Methods: Adhesive, Screw, binding
Weight: 27.0g
Environmental Specifification:
IP Rating: IP68
Storage Temperature: -40°С to +85°С
Operation Temperature: -25°С to +85°С
Feeny Lai
Email:Sales3@oppiot.com
WhatsAPP/Mobile:(0086)15892080432
Skype:enjoyrfid1