"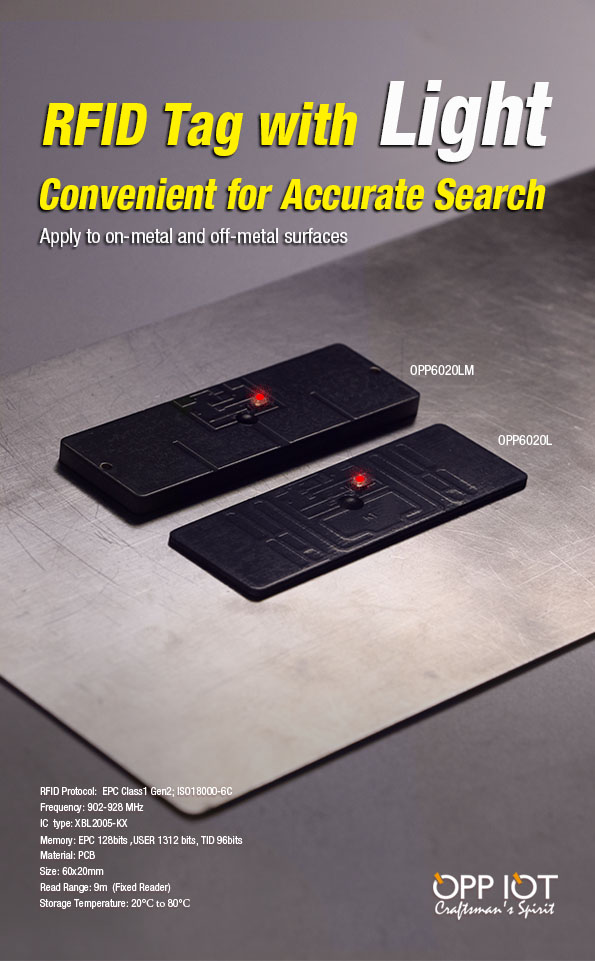 Rfid Tag With Led Light
can help automate your inventories making it easier, fastter and error free to update your inventories with reliable data. Adding an LED light to each RFID tag helps users visually locate the desired item so the picking process is faster and more efficient.
OPP IOT has launched the OPP6020L/OPP6020LM, an battery free
UHF RFID tags
with LED indicator. It is an ultra-high frequency RFID tag with fast search function for single product positioning. The tag is attached with LED light. When the tag needs to be positioned, only the EPC number of the tag needs to be selected, and the LED light on the tag will flash, so that users can more intuitively identify the managed items, and make inventory counting, goods search or other processing easier. It is widely used in file / document management, logistics picking, asset management,Truck tracking,RFID advertisement,Asset trace,transportation,Access control,liquor & wine tracking,telecom communication,Brand protection,Access control,Asset tracking etc.
Those advantages of
RFID tags with LED indicator
OPP6020L/OPP6020LM:
1. Reduce inventory cycle;
2. Increase the accuracy of picking;
3. Free your hands and adopt paperless operation.
4. Quickly locate items and improve the efficiency of finding goods;
More info view http://www.oppiot.com/led-RFID-tags.html