"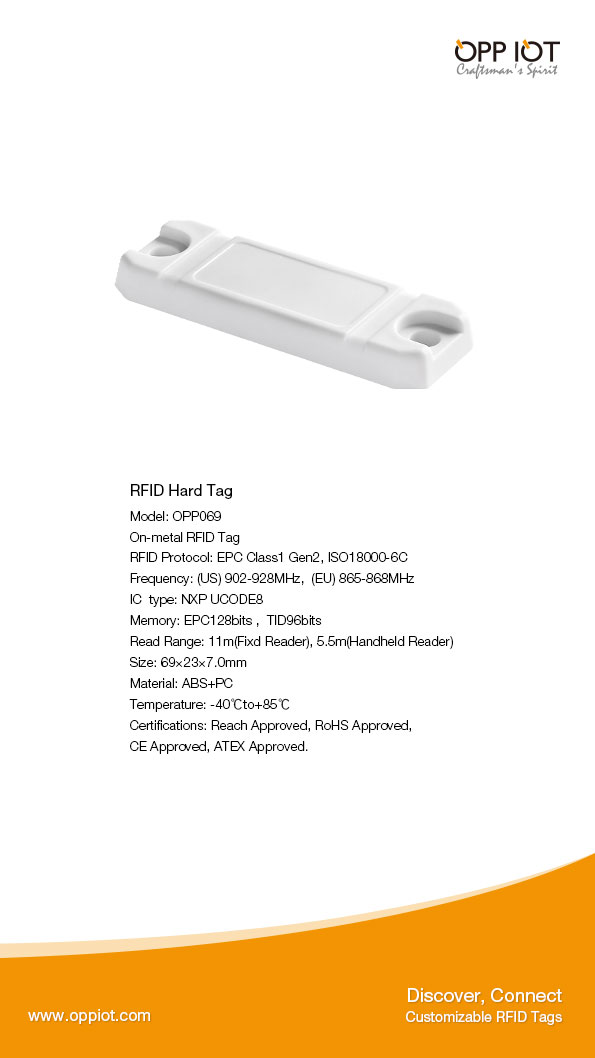 OPP IOT provides a selection of
long range range RFID tags
(such as
OPP069
,
OPP130
,
OPP087
,
OPP105
). These long range tags are passive rfid tags using the 902-928 MHz (US) or 865-868 MHz (EU) frequencies. Long range tags are ideal for tracking large or high value assets across large areas and spaces.
OPP069 is one of long range range rfid tags which provides up to a 11 meters long reading range. The OPP069 UHF tag is IP68-rated, making it suitable for harsh outdoor environments as well as exposure to water and contaminants.
Functional Specifications
RFID Protocol:EPC Class1 Gen2, ISO18000-6C
Frequency:US 902-928MHz, EU 865-868MHz
IC type:NXP UCODE 8
Memory:EPC 128bits , USER 0bits, TID 96bits
Write Cycles:100,000times
Functionality:Read/write
Data Retention:Up to 50 Years
Applicable Surface:Metal Surfaces
Read Range(On Metal)
(Fix Reader):
Up to 11.0m - (US) 902-928MHz, on metal
Up to 10.0m - (US) 865-868MHz, on metal
Read Range(On Metal) :
(Handheld Reader):
Up to 5.5m - (US) 902-928MHz, on metal
Up to 5.0m - (US) 865-868MHz, on metal
Warranty:1 Year
Physical Specification:
Size:69x23mm, (Hole:D5.2mmx2)
Thickness:7.0mm
Material:ABS+PC
Colour:White
Mounting Methods:Adhesive, Screw, binding
Weight:10.8g
Enivironmenal Specification:
IP Rating:IP68
Storage Temperature:-40°C to +85°C
Operation Temperature:-25°C to +85°C
Certifications:Reach Approved,RoHS Approved,CE Approved
More info view http://www.oppiot.com/opp069.html