Home > RFID News > RFID Technical
OPPIOT releases UHF flexible label OPP9018
2019-1-2 View: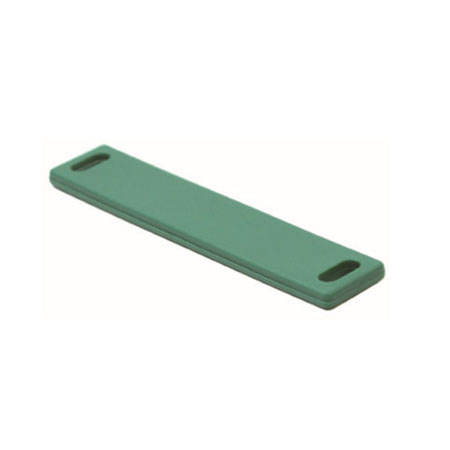 Are you looking for RFID tag that can be applied to curved non-metal surface?
OPP9018 would be an optimal choice. OPPIOT designs this
UHF flexible label
with TPU outer case which can be operated both indoor and outdoor environment.
This off metal tag is IP68 rated which can well resist shock, water, dust, pressure and chemical attack. Measuring 90mm*18mm, OPP9018 provides a read range of up to 4 meters when mounted on non-metal surfaces.
Functional Specifications
RFID Protocol:EPC Class1 Gen2, ISO18000-6C
Frequency :Global 840MHZ to 960MHZ
IC type:Alien Higgs-3
Memory:EPC 96bits (Up to 480bits) , USER 512bits, TID64bits
Write Cycles:100,000times
Functionality:Read/write
Data Retention:Up to 50 Years
Applicable Surface:Non Metal Surfaces
Read Range:(Fix Reader:ThingMagic M6-E, 36dBm/4W)
Up to 7.5m, off metal
Read Range:(Handheld Reader: OP9908,R2000,33dBm/2W)
Up to 5.0m, off metal
Warranty:1 Year
Physical Specification
Size:90x18mm, (Hole: 10*4mm)
Thickness:4.0mm
Material:TPU
Colour:Black (Red, Blue, Green,Yellow, White)
Mounting Methods:Cable Tie
Weight:8.0g
Enivironmenal Specification
IP Rating:IP68
Storage Temperature:-40°C to +100°C
Operation Temperature:-40°C to +100°C
Certifications:Reach Approved,RoHS Approved,CE Approved
For more information about OPP9018,contact OPPIOT at sales13@oppiot.com
OPP IOT can
create/develop RFID tags
to meet your unique material property or specific environmental requirements.
More info,please Contacts us:
OPP IOT Technologies CO., LTD.
Address: 2104 Room SANDI International Finance Centre,249# MingXin Street LongQiao,ChengXiang Putian City Fujian, P.R, China
P.C: 351100
Tel: (0086)594 2790031
E-mail: info@oppiot.com
WhatsApp: +86 180 3034 2267
Website:http://www.oppiot.com